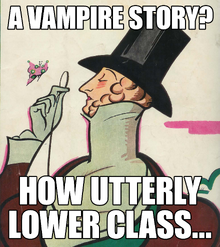 Norman Boutin's elitism often permeates the discussion he has with critics on various websites. Norman appears to have an opinion that anyone who doesn't meet his criteria for acceptance - criteria which appears at times to be somewhat tied to vocation - is somehow beneath him and others he considers acceptable.
Careers
[
]
Norman has claimed to be highly educated, boasting a DMD (Doctor of Medical Dentistry), a BSN (Bachelors of Science in Nursing), and claiming to have been a computer programmer. When looked at in comparison to his claims, it becomes apparent that Norman Boutin is an elitist.
For example, his initial mentions of the University Curriculum Coordinator mentions nothing else about the person, save that she is female and married to a man Norman described in a now deleted comment as his boss. It appears that her profession, working with an unnamed university automatically conveys authority to the discussion.
Contrast that now with his first mention of Janitor Woman. He mentions her occupation, which isn't very different from Norman's currently stated occupation (from another now deleted comment) that he sweeps up at a rest stop somewhere in Maine. However, the only mention he makes initially is that of her occupation, as if that tells one all the need to know about her background. In fact, he states, "So there you have it, ladies and gentlemen. Two mature women from very different backgrounds both like the book."[1]
There is no actual mention of either woman's background. Instead, the implication is simply that their occupation is all that is relevant.
Norman was asked by an Amazon commenter if he saw people as their occupations.[2] At first, Norman simply replied to a side comment the individual had made later, hence avoiding the question.[3] When he was pressed to answer the question,[4] Norman replied with a completely non sequitor ad hominem of, "Got clobbered by my last post, hunh, Tom? If you told the truth I couldn't clobber you."[5] Based on his refusal to directly answer this question, many critics have assumed that Norman truly does view and judge people according to their jobs and occupations.
Social Class
[
]
When critics mention that it appears that Janitor Woman may not be much of a reader, Norman begins talking about how low income people are often readers. This was a fact not in dispute by any of his critics. However, to illustrate his point, Norman begins to relate a story about his time in the Army.
It's not unusual for people with low incomes to read a lot. It's a cheap kind of recreation. When I went to Germany when I was in the Army, I was stuck in temporary billets in downtown Nuremburg for two months. It was an old hotel and there was nothing to do but watch television in the community room. There was always a GI there with his fat wife who constantly blew bubbles from chewing gum. Instead of watching the tv the GI was always reading some little paperback. I never saw him look up from a book in two months.[6]
His description of the wife isn't relevant to the story in any way, but his description is condescendingly of a person that Norman knew nothing about, yet clearly had an opinion on.
Later, Norman tried to score points in a debate by saying: "I realize how exciting it must be for somebody like you to debate with somebody like me, you don't find people like down at your car wash, but take a hike."[7] This is despite Norman's admission previously to his current occupation of sweeping up a rest stop parking lot.
This is similar to comments made by Theresa Sullivan regarding the character of Ginny, the girlfriend of her ex Jack. She describes Ginny as "the poor waitress...waiting on tables all [her] life," sitting at home "hoping [she] could keep a college educated man."[8] Later on, when Theresa becomes rich and famous, she thinks to herself, "Theresa calling Jack. How are you doing with Ginny?"[9]
Genres
[
]
In literary discussions, Norman Boutin has demonstrated a sense of elitism towards people of different genres. If someone writes "vampire, zombie or witchcraft stories," he sees them as having nothing worth contributing to the discussion.[10] One has to wonder if Norman Boutin believes Bram Stoker, author of the famous Dracula, was a hack, or if Shakespeare was a hack because one of his most famous plays, Macbeth, features three witches as influential characters.
He has likewise shown elitism towards critics with specific tastes, such as when he said to one: "Go back to your galactic war sci/fi stories, Tom. You will never understand a book like Empress Theresa."[11] To another, he said: "Why don't you read Jason's book 'Spring Never Came'? It has a war between humans and "goo monster" aliens from space."[12] This is especially ironic given many have argued (rightly) that Empress Theresa is itself a science fiction story.
Norman has even said, regarding publishing on Kindle, that he saw "a lot of stories about vampires, zombies and witches...[and] romances and mysteries which are all alike." He concluded that there didn't "look like much competition."[13]
Norman's snobbery goes into other mediums, besides written work. In one occasion, when Norman called critics "the walking dead," someone jokingly said, "Better call Rick Grimes then!" Norman replied, "I've never watched two minutes of AMC's walking dead. [sic] That trash is beneath me."[14]
References
[
]